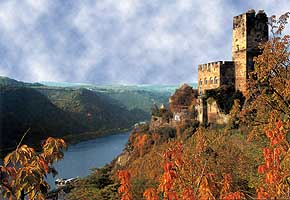 The secret tip on Rhine!
Entrance only for hotel-guests.
Romantic grounds with Castle Chapel.
Opened all-the-year.
Spoil yourself with something special!
Take a break in the Castle Hotel Burg Gutenfels.
The romantic and historic past become reality when you visit us.
The wonderful view over the most beautiful part of the Rhine Valley, with the famous and unique stronghold, the castle on the island in the middle of the Rhine, Pfalzgrafenstein; the brisk and plentiful boat traffic on the Rhine – all this is a delight to the beholder!
The historical rooms in our well cared for hotel, invite you to just sit back and enjoy your surroundings, or are ideal for celebrations of different kinds until maximal 50 people.