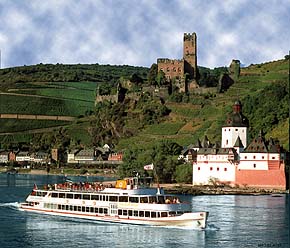 Burg Gutenfels invites you to linger.
With the closure of the heavy castle gates, the noise and hectic of the outside world disappear. A new world full of romantic magic surrounds you. Because of this, and because of its age and the many traditions surrounding it, Burg Gutenfels has been made into a stylish guest-house, where guests from all over the world are made more than welcome.
Romantic and delightful are the many small gardens, terraces, and alcoves to be found on Castle Gutenfels. From all of them you have a wonderful view into the Rhine Valley. Up-stream to the large bend in the Rhine and Bacharach, down-stream to Oberwesel and the Castle Schonburg, and beneath you to the old town of Kaub and the Island Falkenau with the Pfalzgrafstein.